Our Classes
Fitness Classes
Interval Training
This is our all-rounder. In Interval Training you'll find complete beginners and marathon winners. The class builds full-body strength and improves cardio. Everyone welcome — the class is as hard as you make it.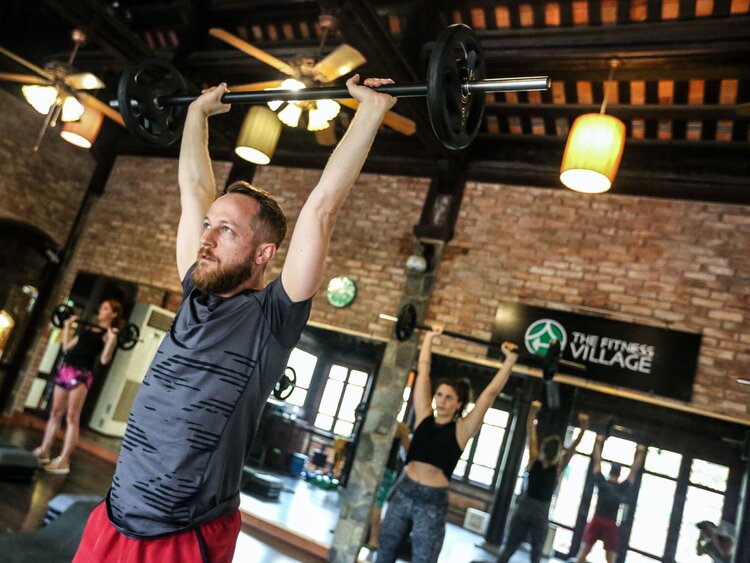 Pump
Pump is a weights class that builds full-body strength. Each workout is choreographed to keep things fun and it's easy to track your progress. Everyone welcome. If you're new to weightlifting then you can start with light weights and build from there.
HIIT
High Intensity Interval Training (HIIT) classes are short – you won't exercise for longer that 30 minutes. But if you push yourself hard then you'll burn fat both during and after the class. Not suitable for beginners – make sure you're comfortable in an Interval Training class first.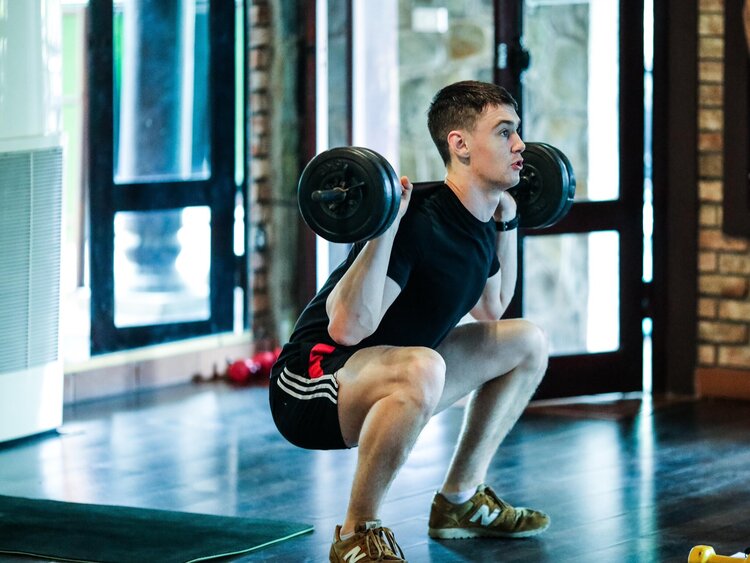 Strength & Conditioning
This class focuses on building full body strength. It is designed around the basics of compound lifts with longer rest periods between sets to allow you to fully recover before the next set. Further this will allow for an increased focus on technique, so it is also great for people that would like improve or learn more about correct form. All levels are welcome.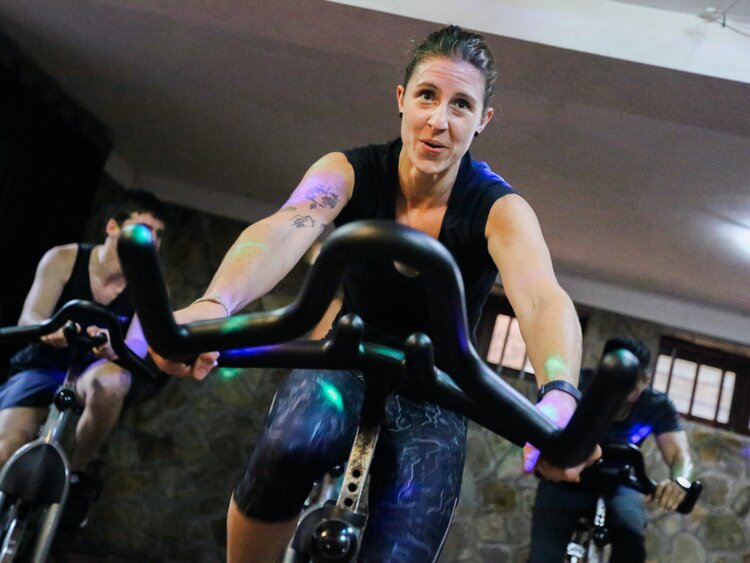 Xpinning
Xpinning – or Spinning – is an intense, leg-focused workout on a stationary bike. Like HIIT, Xpinning will burn fat both during and after the class. In the evening we black out the room and the disco lights come on! Everyone welcome.
Zumba®
Blending bursts of energy and motivating moves, Zumba® mixes low- and high-intensity exercise for an interval-style, calorie-burning dance fitness party! Zumba® Toning is the same – but with weights. Everyone welcome.
HIIT & 6pack
It is a high-intensity version of interval training, known as HIIT, which involves short rounds of intensified movements using only your body weight and is designed for members with high fitness levels. If performed correctly, HIIT is great for weight loss as you will continue to burn fat for the rest of the day! This class also includes a core workout, using bodyweight exercises to strengthen the abdominals, but also the obliques and the lower back.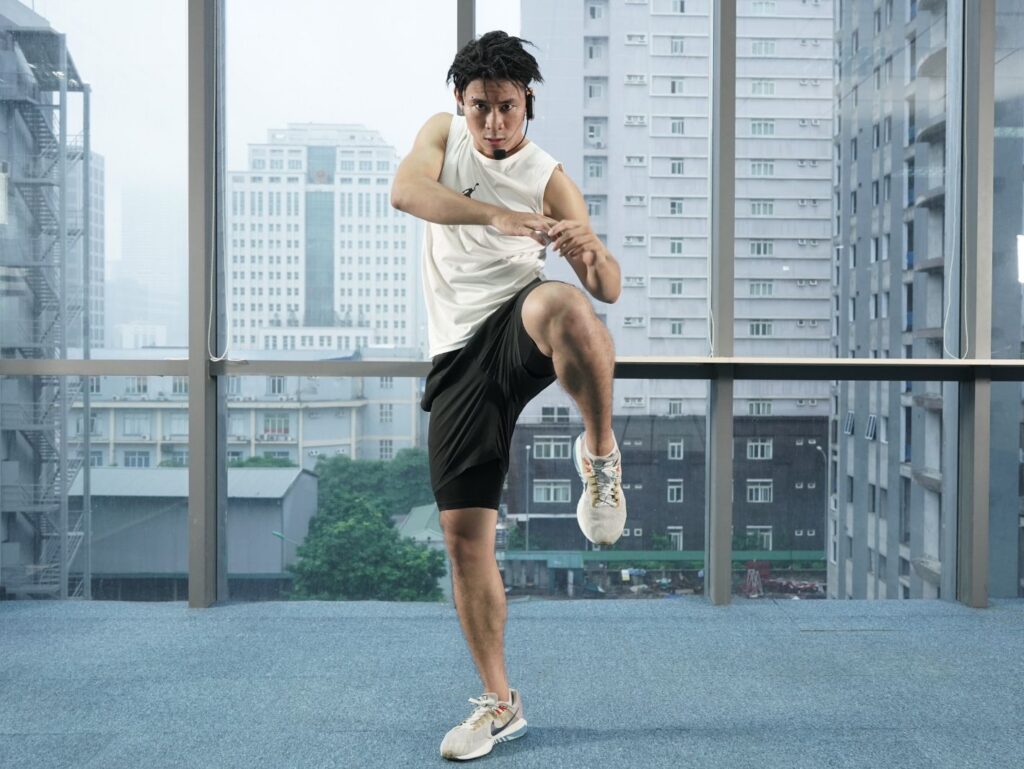 Combat Fit
This is an exercise class that lets you punch and kick your way toward your fitness goals. You will learn the moves from Karate, Taekwondo, Boxing, Muay Thai, Capoeira, and Kung Fu. Not only is it a great whole-body workout for cardio fitness, but it's also superb for burning fat, releasing stress, and improving your coordination. No experience is needed!
Yoga Classes
Ashtanga
Ashtanga is characterized by the use of steady, regular ujjayi breath, muscular lock called bandhas, the connecting of breath and movement in vinyasa, and steady point of focus known as drishti. The combination of these powerful techniques is called tristana and it provides framework for the practice. During practice your body is producing intense internal heat and a profuse, purifying sweat that detoxifies muscles and organs. The result is improved circulation, a light and strong body, and a calm mind.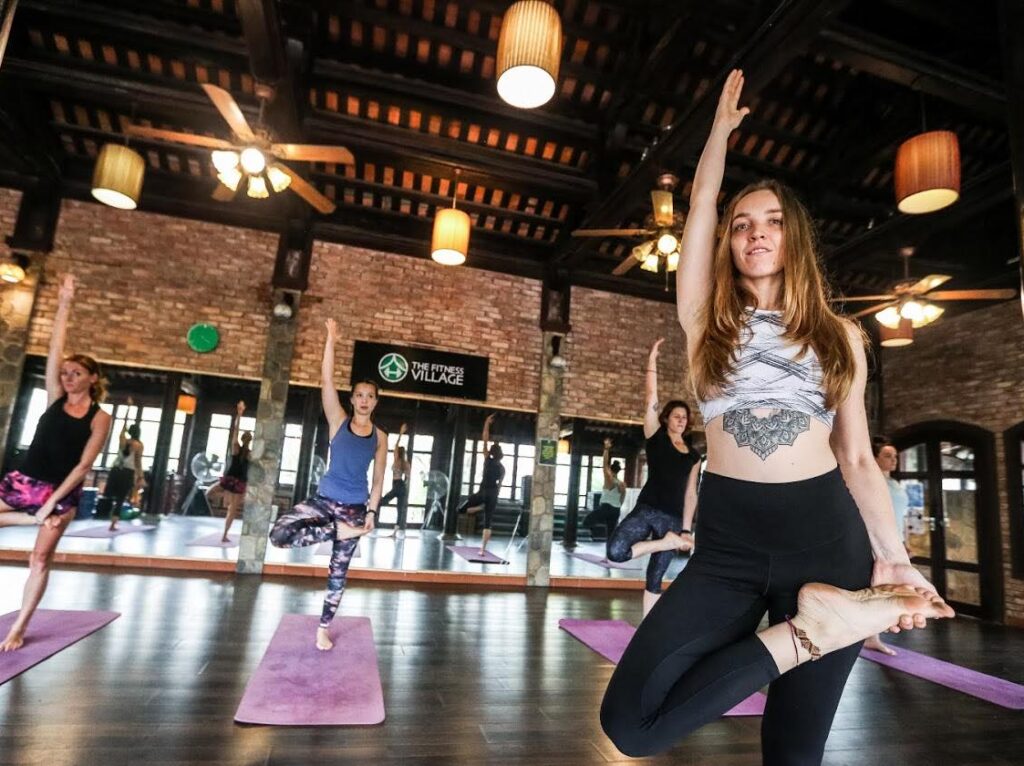 Balance
Yoga Balance is the rhythmic movement of Asanas (Postures) and the flow of qi moving within the air passages. In Yoga Balance, Prana (Qi) plays an important role to establish the connection and balance between the movements that rotate between each other to keep the Asanas in a neutral position, also known as balance. Yoga Balance includes balancing poses from simple to advanced. Practicing Yoga Balance will help you strengthen your arms and lower body. Increases body-mind coordination. Increase stamina, strength and concentration.
Conditioning
Get yourself into new positions! Upside down is better than just upright. Headstands, arm balances and handstands are the name of the game. With the use of tools, props and support from others this workshop allows you to develop your skills in a safe environment. All levels are welcome, all fun included.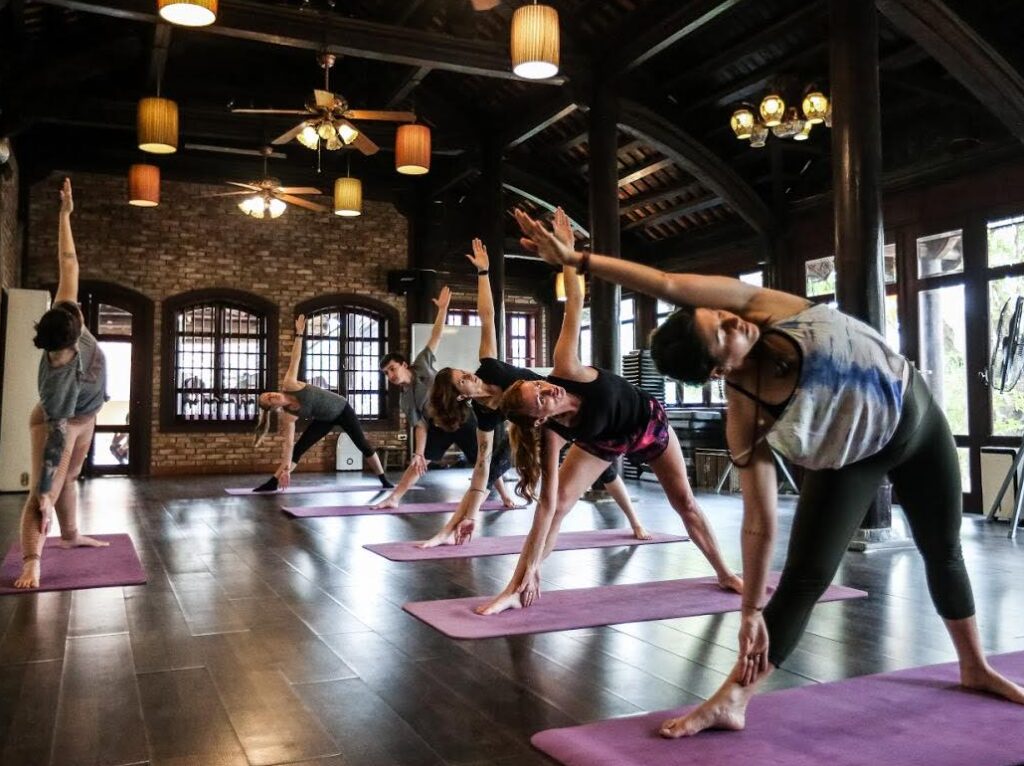 Hatha Flow
Hatha Flow is a gentle yoga class which concentrates on physical health and mental well-being. Traditional postures (asanas), breathing techniques (pranayama) and meditation techniques (dyana) are incorporated with the goal of bringing about a sound, healthy body and clear, peaceful mind. Postures are held in accurate alignment and emphasis is placed on core strength, flexibility and balance as well as concentration and breath control.
Power
Power Yoga is a general term used in the West to describe a vigorous, fitness-based approach to vinyasa-style yoga. Though many consider it to be "gym yoga," this style of practice was originally closely modeled on the Ashtanga method. Power yoga is one of the best ways to develop flexibility, as well as create a harmony of breathing, movement and peace of mind.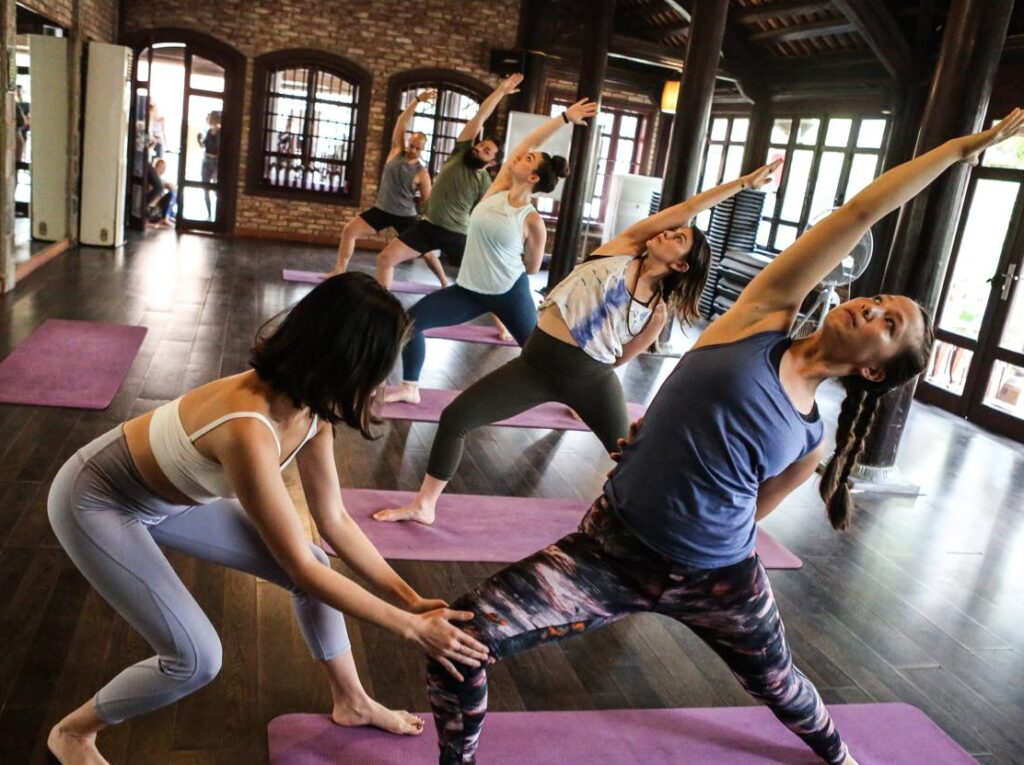 Vinyasa
Vinyasa is a dynamic yoga practice that cultivates presence by connecting movement with breath. Most classes feature several elements of traditional Ashtanga yoga – including sun salutations, standing postures, preparation for arm balances, dynamic stretching and pranayama (breathwork). This practice will build strength, aid balance and weight loss, while reducing stress and increasing vitality.
Slow Flow
Slow Flow is a calming, stress-relieving yoga class to stretch and strengthen the body gradually. Using a Vinyasa (linking movement with breath) style, emphasis is on building awareness of the breath and the body. Asanas (postures) are practiced at a slower pace with attention to alignment and detail. Yoga props such as blankets, blocks, bolsters, chairs and straps are often used for safe practice, and to allow the body to fully achieve each position comfortably. Pranayama (breathing exercises), meditation, deep stretching and relaxation techniques are practiced throughout the class. Recommended for all levels looking for a soothing, relaxing, and restorative experience, especially those newer to yoga or working with special concerns or injuries.
Soul Sundays
Soul Sundays are weekly sessions to refuel your soul. Give yourself time to connect to you and your body. Soul Sundays are a time to rejuvenate and restore your energy ready for a new week ahead. This practice will be mellow and mindful. Nurturing and nourishing every part of you. The sessions end with a sound bath, so your mind, body and soul can indulge and bathe in the healing sound waves. These sessions incorporate a mix of mindful movements, postures that focus on increasing flexibility and relaxation, mantra, pranayama, sound and meditation to regulate and soothe your nervous system. All levels are welcome.
Restorative
Vinyasa Restoration is a blended yoga class. In this class we incorporate the flow of Vinyasa (for building lean muscle tissue) and the deep relaxation of Restorative yoga (which is very yin and works with the fascia—connective tissue) to find great healing, health and vigor.
The practice will start with flowing movements and lovely music playing this style will feel like a dance. Linking each pose with an inhale and exhale which will help you stay present physically and emotionally. Restorative side of our practice will give you the space to practice mindfulness and letting go of everything that doesn't serve you.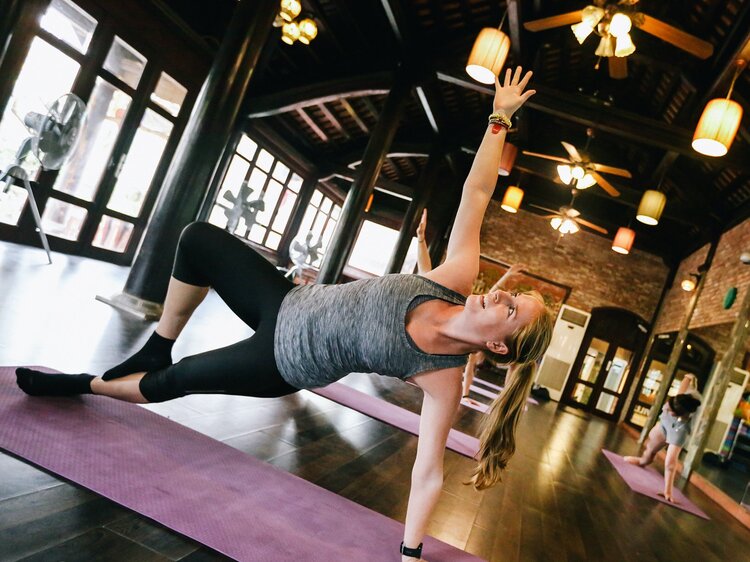 Pilates
Pilates builds strength with slow, controlled movements that focus on the core. It improves posture, helps prevent injury and complements other forms of training, from weightlifting to yoga. Everyone welcome.
Meditation
The teacher uses various approaches and guides thought experiments into mindfulness, awareness, healing, self-inquiry, concentration, and stillness. We will explore different topics each week and meditations are open to everyone. And if you never meditated before, it's a good time to find out about it.